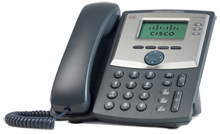 Cisco SPA303
The Cisco SPA303 is our no-frills business-class IP phone that does not lack in call features such as speakerphone, call hold, caller ID name and number, call transfer, and more.
3-line business-class IP phone
Dual switched Eathernet ports, speakerphone, caller ID, call hold, conferencing and more
Monochromatic LCD display
Power supply included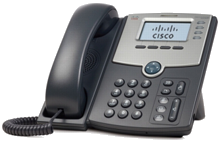 Cisco SPA504G
The Cisco SPA504G is the most affordably priced, reliable, and stylish IP phone of its class. With all the enterprise-class features such as PoE capability, backlit LCD display and ability to add up to 2 extension modules (SPA500S) that can support upto 64 button for speed-dial and busy lamp field (BLF).
4-line business-class IP phone
Monochromatic backlit LCD display
Power-over-Ethernet (PoE) enabled device
Power supply included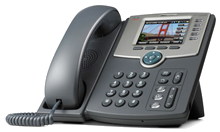 Cisco SPA525G2
For those looking for all the bells and whistles on your office phone, the Cisco SPA525G2 will satisfy your gadgetry with large color LCD, WiFi and Bluetooth connectivity, and 5 line appearances. In addition to providing one of the best voice quality phone conversations, you will be able to check the local weather, read RSS feeds, and play mp3 files right from your phone.
5-line business-class IP phone
Full-color large LCD display
WiFi (802.11g), Bluetooth, and PoE enabled
USB 2.0 host port for external resources such as mp3 and image files
Power supply included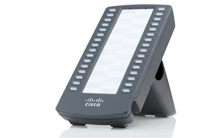 Cisco SPA500S Attendant Console for SPA504G & SPA525G2
The Cisco SPA500S is ideal for receptionists looking for speed dialing, call pickup, and/or extension status capabilities. Each unit provides additional 32 programmable buttons and each compatible phone can add up to 2 SPA500S units.
32 programmable speed-dial, call picking, and busy lamp field (BLF) buttons
No additional power source is required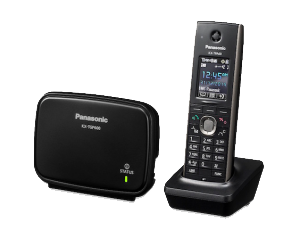 Panasonic TGP600 Smart IP Wireless Phone
The KX-TGP600 is an optimal SIP cordless phone system for small and medium-sized business offices. It enables up to eight handsets to be connected and calls to be made on eight lines simultaneously. The high quality communication technology of Panasonic, enhanced maintenance and management functions, and various types of optional handsets for a wide range of office usage enable smoother communication in a variety of business scenarios.
Support for upto 8 DECT handsets
Talk time upto 11 hours
Panasonic TPA60 Additional Handset for KX-TGP600
Compatible with the KX-TGP600 smart IP wireless phone system, the KX-TPA60 wireless (DECT) handset allows businesses to expand their communications as they grow. When combined with the KX-A406 repeater, they provide wide-ranging coverage that integrates flexibility and enhanced customer service throughout the operations of a business.
Talk time upto 11 hours
6 hours of battery charge time
2.5mm headset jack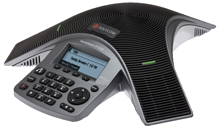 Polycom SoundStation IP5000
The Polycom SoundStation IP5000 provides HD quality audio and is ideal for a small to medium-sized conference room. This stylish form factor conference phone is equipped with 3 microphones to provide 360 degrees to allow users to speak in a normal voice and be heard clearly from up to 7 feet away.
High-Definitely voice technology
Echo-Cancellation for conference room or executive office settings
PoE power supply included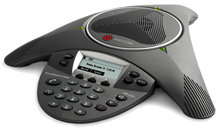 Polycom SoundStation IP6000
The Polycom SoundStation IP6000 is ideal for a medium-sized conference room. In addition to providing high-quality and clear audio, it is also capable of adding 2 additional extension microphones for longer conference tables.
High-Definition voice technology
Ideal for medium to large conference rooms
Capable of adding 2 additional extension microphones
PoE power supply included
Software-Based Phones (Softphones)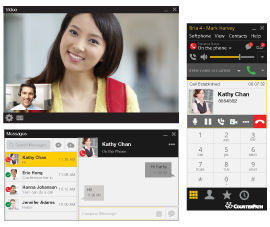 CounterPath X-Lite
Softphones offer an alternate way to take your office phone with you, making this a perfect solution for frequent travelers. Limited features such as ability to call out using a company number, 3-way call, and extension dialings are available on a free version of softphone. Similar to Skype, it uses the speaker and microphone of your laptop or desktop and a separate headset is recommended.
1-line appearance
Call Hold
Conference Call
Call Mute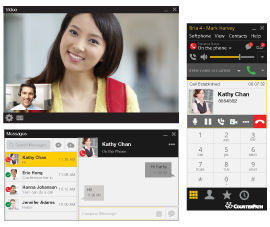 CounterPath Bria
Licensed version of Counterpath Bria offers all the features required for a softphone, which includes call transferring, call recording, and multiple line appearances for easy call handling.